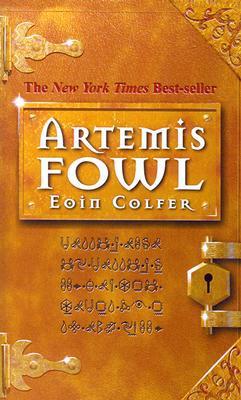 Author: Eoin Colfer
Publication: 2002, Hyperion
Pages: 280
Overall Rating:
Rating for Action:
Quantity of Action:
Age Category: 9-12
Brief Summary: Artemis Fowl – millionaire, genius, criminal mastermind, twelve years old.  Artemis is the latest in a long line of Fowls with a reputation for the criminal.  But recently the family has fallen on somewhat hard times.  Artemis has an unusual scheme to reverse the family's fortunes.  After long investigation, he has managed to track at real live fairy and learn their deepest secrets.  With the help of his able bodyguard, Butler, Artemis plans to use that closely-guarded information to kidnap a fairy and ransom them for a ton of gold.  If he fails, he'll set off an interspecies war.  But this is Artemis Fowl, failure is not an option.  Except, of course, that the fairy he manages to kidnap is one very pissed off member of the elite LEPrecon police force.
Age of Main Character: 12
What I Liked the Most: Colfer writes with a wonderful touch of humor.  Whether the scene is about a crazed troll destroying a restaurant, a cigar chomping LEPrecon officer chewing out his centaur subordinate, or a stake-out as Artemis and Butler wait to kidnap a fairy, it's hard not to smile at the sharp wit and wonderful imagery.
Colfer has also done a masterful job of placing us squarely inside the heads of both his villain and heroine, and making Artemis both human and easy to sympathize with.  For a criminal mastermind, you can't help but want him to win.  It makes for some very entertaining twists to the story. 
And, of course, there's the magical world of the fairies itself, which Colfer has drawn in short, deft strokes.  It's as fun, mixed-up, and imaginative realm as Hogwarts, and any reader should find true joy in immersing themselves in it.
What I Liked the Least: Not much to say on this.  It's a fun story.  Even the secondary characters are larger than life, from Butler's wrestling obsessed little sister to Mulch Diggums, the kleptomaniac dwarf who tunnels under the earth by eating dirt and digesting it out his backside.
How Good was the Action? Well, think of it as campy action.  This is a humorous story and the action generally takes a humorous bent as well.  It's fun and brash as Butler  – especially Butler – takes out a whole squad of LEPrecovery troops or single-handedly brings down a troll while wearing an ancient suit of armor.  Are there moments of genuine tension within the action?  Sure, but the real focus is on good old fashioned swashbuckling fun.
How Engaging was the Story?  The characters are so larger than life, the wit so sharp, and the story just so damn fun it's hard not to get sucked in.  Colfer has created a world of magic and evil tinged with moments of genuine compassion and moral uncertainty.  Once you start reading, you'll get sucked in fast and won't want to put this one down until the last page.
Profanity: None.
Sex: None.
Violence: Yes, and there's even a bit of blood.  But all the action takes place in such grand swashbuckling style, and with such a healthy dose of humor, that's hard to get too worked up about it.