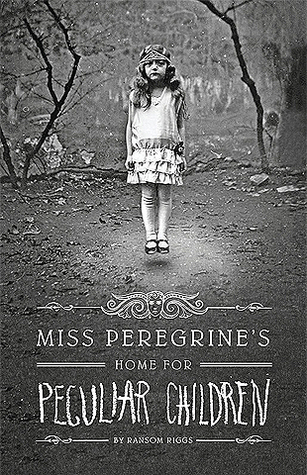 Author: Ransom Riggs
Publication: 2011, Quirk
Pages: 352
Overall Rating:
Rating for Action:
Quantity of Action:
Age Category: 13+
Brief Summary: As a child, Jacob reveled in his grandfather's stories about levitating girls and invisible boys.  When his grandfather is violently murdered, Jacob is haunted by the fleeting image of a monster.  Then a mysterious letter, hidden among his grandfather's belongings, sends Jacob on a journey to the remote Welsh island where his grandfather grew up, in the hopes of learning what really happened to him.  There, Jacob discovers that all his grandfather's stories were true.  The children are alive and well, and not a day older then they'd been in his grandfather's yellowed photographs.  But Jacob isn't the only one searching for the children, and as he delves further into his grandfather's past, he finds himself caught up in a battle with real monsters – ones only he can see. 
Age of Main Character: 16
What I Liked the Most: Riggs has written a wonderfully fresh story with a unique take on the standard notion of mutants or children with super powers.  The characters are larger than life and the setting on the wild island of Cumbria is deliciously dank and miserable.  From the first page, you'll know you're in for something grand and insanely different.
What I Liked the Least:  Nothing.  This is a wonderful read, pure and simple.  Dark and joyous in equal measure.
How Good was the Action? There's not a lot of action here until the end of the book, where the last fifty or so pages are more or less non-stop, as Jacob and his friends battle a mysterious monster in an effort to save Miss Peregrine and their home.  At that point, the action becomes fast and tense – not much in the way of blow-by-blow fights, but plenty of chases, near escapes, and a nail bighting climax with the gun wielding villain.  It's not a book you're going to read for the action, but what Riggs has is tense and very well done.
How Engaging was the Story? It sucks you in from page one, with grandpa Portman's enticing stories, his brutal death, and the wild characters that inhabit the book right from the start.  And Jacob's own journey from loneliness, paranoia, and self-doubt to the courage that comes from finding something worth fighting for is a joy to watch.
Overall Assessment: An awesome debut from Ransom Riggs.  This is definitely one author to keep an eye on.
Profanity: None
Sex: A chaste kiss or two.
Violence: Some, but none of it is particularly graphic.  That said, there are some fairly tense and scary chase scenes with a horrifying monster hot on Jacob's tail.