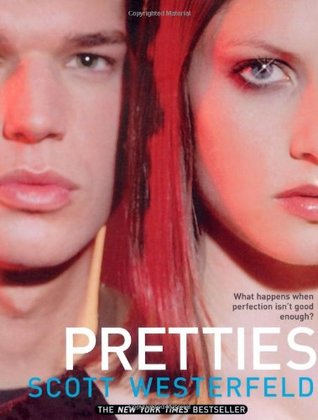 Author: Scott Westerfeld
Publication: 2005, Simon Pulse
Pages: 368
Rating for Action:
Quantity of Action:
Age Category: 13+
Brief Summary: Tally Youngblood couldn't escape the operation. She's now a pretty, but something doesn't feel right. Then Tally meets Zane and realizes she's not the only one who feels like they don't belong in New Pretty Town. Together, Tally and Zane keep each other bubbly as they search for answers, until they eventually stumble upon a possible cure for pretty-mindedness.
But something goes wrong. Zane begins to experiences terrible headaches that get worse with each passing day. And Special Circumstances is never far behind. They're doing everything in their power to keep Tally in line, to erase everything she's learned.
The only way out is to escape the city – but with Special Circumstances on their tail, that could be harder and more dangerous than ever.
Age of Main Character: 16
What I Liked the Most: Westerfeld doesn't try to provide us with any pat answers about what is right and wrong in Tally's world. She's struggling to break free of the control that Special Circumstances exerts over all the pretties – to live her own life. But even as she does we're reminded time and again that the choices she is making have consequences – that the pretty operation happened because without it people tend toward violence and greed. Even the Smokies, for all their good intentions, are gobbling up resources and destroying a bit of a world.
What I Liked the Least: I'm not actually sure this was something I disliked per se, but it did stick out. In the last book, Tally starts off with one best friend. Then she's separated from him and meets Shay. Towards the end of that book, Shay drops off a bit and she meets David. Now, in this book, Shay is back but is replaced by Zane. I can see the point behind all this switching, because as we change the people who are important to us we change, too. People who were once our best friends can drop away or even become enemies, and Westerfeld uses that tendency to great effect. But I did find it a bit disconcerting how every couple hundred pages Tally always seems to have a new best friend that she's utterly committed to.
How Good was the Action? The action sequences here are definitely on par with the action in Uglies. But this time around there was even less of it. Really, there are only a spare handful of sequences scattered throughout the book. They're well done – again centering mostly around hoverboards and other assorted aerial acrobatics – but this isn't a story you'd read for the action.
How Engaging was the Story? Westerfeld really knows how to pull you in. Tally's world is rich and complex. The problems she's faced with and the choices she's forced to make are both huge and intimately real, and even decisions she made long before she became pretty have a way of coming back to haunt her. You can feel the drive within her – to change, to escape the bonds of her world – but for each step she takes there's an obstacle threatening to knock her back.  And as a reader, you'll feel compelled to see her journey through to the end.
Overall Assessment: Pretties is a great addition to a rich, thought provoking series. It's full of intrigue, back stabbing, jealousy, and fear, with brief but bright flashes of action. And you can't read it without being forced to confront some of the underlying themes of environmental destruction, thought control, vanity, human violence, and the always tenuous balance between free will and conformity.
Profanity: None
Sex: A bit of kissing and making out, but nothing at all graphic.
Violence: Very little, and none of it is graphic.