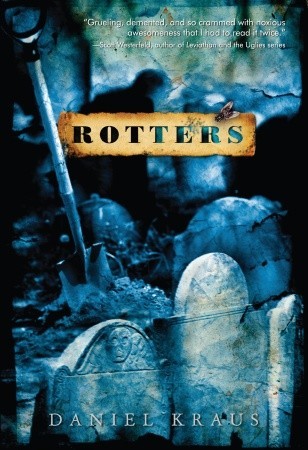 Author: Daniel Kraus
Publication: 2011, Delacorte
Pages: 464
Overall Rating:
Rating for Action:
Quantity of Action:
Age Category: 13+
Brief Summary: After Joey Crouch's mom is killed he's sent to live with the father he's never met.  But Ken Harnett is a strange, solitary man who wants nothing to do with his son and Joey's life quickly devolves into a horrific parade of hunger, squalor, and bullying.  He thinks life can't get any worse until the night he discovers what his father really does for a living.  Because Ken Harnett is a grave robber, and Joey is about to become his apprentice.
Age of Main Character: 16
What I Liked the Most: This is a gorgeously written book, so haunting and beautiful that at times you forget what Kraus is writing about.  In all the books I've read I don't think I've ever come across one that took me to such dark and disturbing places, but I loved every moment of it.  Kraus writes about death, decomposition, and the long tradition of grave robbing with such passion it's impossible not to fall in love with the subject.
He brings the same deft talent to his scenery and characters.  Each cemetery, each grave will come alive, and you will never look at either one the same again.  And the Diggers – that dark society of aging grave robbers that Joey becomes a part of – oh man, what an incredible cast of characters, each more colorful than the last.  All topped off by Boggs, who has to go down as one of the most disgustingly unique and memorable villains in literature.  Anything I might say about him would pale in comparison to the reality that Kraus creates.  You'll simply have to read the book to know what I'm talking about.
What I Liked the Least: A minor complaint at best, but when Joey starts at his new school I couldn't help feeling like Kraus might have taken things too far.  The bullying by both students and teachers was among the most horrific in any book or movie I've ever come across.  Combine that with the absolute squalor in which Joey finds himself living and the abiding hatred he feels from his father, and part of me almost didn't want to keep reading.  It was simply too disturbing.  But I am very glad that I did, because disturbing as the book may be, it's one of the best things I've read in quite some time.
How Good was the Action? There are plenty of intense scenes in Rotters, but relatively few that would qualify as action.  Those few scenes, however, are mesmerizing in their amped up, rapid fire pace as Joey and Harnett battle their way through a class five hurricane or go into bloody battle with Boggs.
How Engaging was the Story? From the first chapter, where Joey predicts and discards all the terrible ways in which his mother might eventually meet her doom, this book was impossible to put down.  The haunting beauty of the writing, the suffering Joey faces, his own inner turmoil, and the wonder and depravity of his tumultuous education in the art of grave robbing will grab hold of you like a hangman's noose.  You might find yourself alternately fascinated, horrified, and disgusted, but you won't be able to look away.
Overall Assessment: A glimpse into the dark and deviant world of grave robbing, Rotters is an intense and emotionally powerful masterpiece, filled with enough twisted imagery and deliciously depraved characters to keep you awake for many nights to come.
Profanity: Some, but nothing too prevalent.
Sex: A bit of fantasizing.
Violence: Yes.  Though to be fair, most of violence involves horrific scenes of human decomposition as Joey digs up graves, crawling amid rats and half rotten corpses, and severing dead human hands.  There is a terrifying act of revenge against his tormentors at school that will leave you squirming, and the few fights scattered throughout are bloody affairs.  This is not a book for the faint of heart.